Remember
this post
? Sure you do. It's from yesterday. It was all about how I have too many things going on in my life? Yeah. That one. Well, I thought it would be totally appropriate to follow that up with this: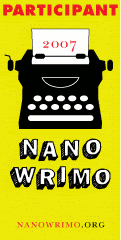 I know it's crazy, but I've been freaking out about not doing enough writing lately (and no, the blog doesn't count), so why not cure my writer's procrastination with a whopping deadline and 50,000 words in 30 days? You got a better idea?
No? Okay then. Jump on board. You don't have do it, but you do all have to bug me when it turn out I only have 600 words after two week, okay? Beg me for updates, no wait,
demand
updates. Please.